JW fashion spread Garage Magazine #16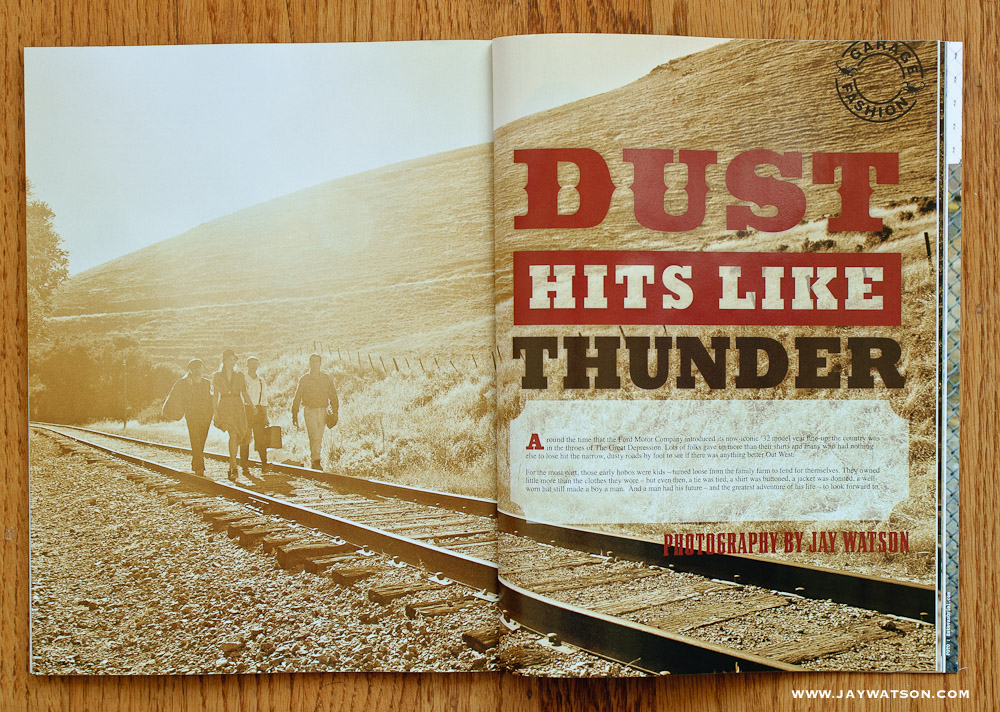 A few images were posted recently from a fashion shoot I did for Garage Magazine, but I didn't want to show too much before the mag hit the stands. Last week the official release party for issue 16 was held at the Irish Bank in downtown SF. Here are the rest of the spreads as they are in the mag.
click to enlarge
About the shoot:
I have been wanting to do a period theme piece based off the 1930's Dust Bowl era for several years, and was able to convince the fellas at Garage to let me have a go at it. They were into it and after much collaboration it's finally in print. The scope of the project had to change slightly in order to fit within the budget and creative needs of the magazine. All the  locations remained in the San Francisco Bay Area. I was leery at first to give up some of my original ideas, but overall I am very pleased with the end result. This project comes after years of thoughts, a month of planning, a week of location scouting, and 10 hours of shooting. Our clothing stylist Malia was the unsung hero on this shoot. Her choices really helped bring the 1930's to the camera and she was still able to keep the clothing relevant for today.
It is difficult to get approval for personal projects from a magazine. They have to showcase their vision first and foremost. Photographers can not take it personal. We have to keep working and keep developing new ideas. This piece has taught me that it can work out and everyone can get what they need.
Thanks to the entire crew…
Art Direction: Brian Bounds
Production Coordinator: Monica Merker
Assistant: Joe Reifer
Wardrobe Stylist: Malia Miyashiro
Stylist Assistant: Ewa Davis
Hair/Make-Up: Trish Ward
Female Talent: Molly Ferguson courtesy of Jada Ogden & Look Talent
Male Talent: Paul Catches, Scotty Strebel, Shea Shawnson courtesy of Garage Magazine
Location: Al McCracken and the Niles Canyon Railroad