Mattson Family Art Benefit | Surfindian Gallery San Diego, CA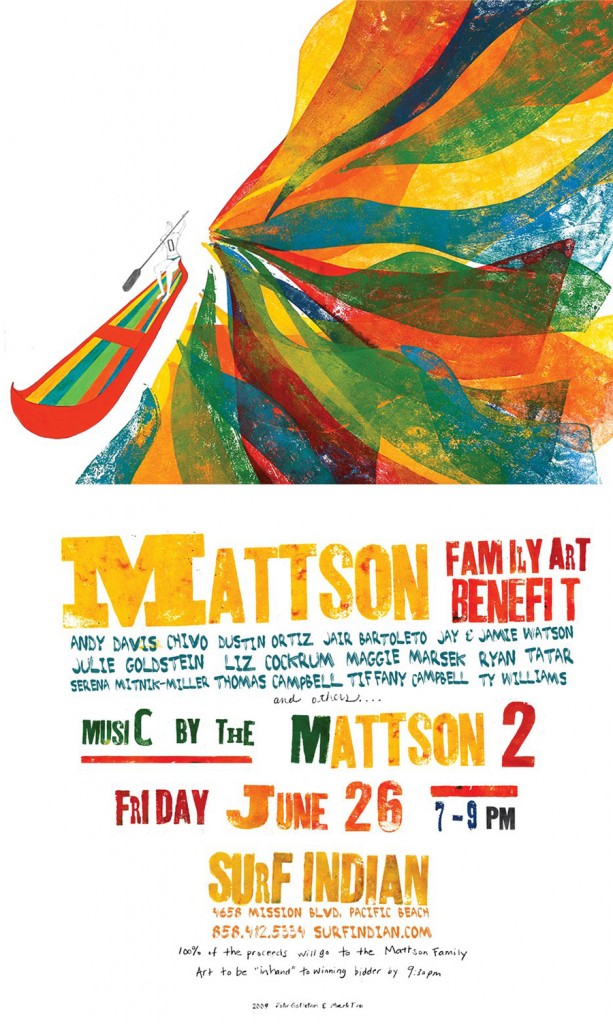 Poster Art by Julie Goldstein, designed by Mark Tesi
The surf/art communities have banded together to help the parents of the Mattson 2, a stylish mod duo formed by twin brothers Jonathan (drums) and Jared Mattson (guitar). The Mattson 2 keep a relentless schedule playing and recording their own music while also supporting various surf realted events, movies, art shows, and shops across the world. Their father Jan has been diagnosed with colon cancer, and their mother Arlene had surgery in February to remove a brain tumor. With both parents being self employed, a silent auction art benefit has been formed to help cover some of Jan and Arlene's medical expenses.
For the past few months my wife Jamie has helped to organize art for the show. She has received work from both coasts and abroad. Our home is now stacked with some amazing pieces that we will be driving to San Diego next week to hang with Chris Rule of Surfindian. Road trip! Looking forward to June 26th. Hope to see some of you there.
Participating Artists:
Alberto Cuadros : Andrew Paynter : Andy Davis : Candace Anderson : Cher Pendarvis : Chivo : Ciro Bicudo : Christine Brailsford : David Hanson : Droog79 : Dustin Ortiz : Ed Fladung : Frank Cubillos : Heather Brown : Jair Bortoleto : Jamie Watson : Jay Watson : Jenny McGee Dougherty : Jessica Nichols : John Zane Zappas : Joseph Conway : Julie Goldstein : Justin Furniss : Kassia Meador : Katrine Hildebrandt : Keiron 'Seamouse' Lewis : Kim Nguyen : Kyle Lightner : Lindsay Preston : Liz Cockrum : Luke Taaffe : Maggie Marsek : Meegan Feori : Michael Singman-Aste : Morgan Maassen : Peter Jackson Hussey : Peter McBride : Renata Morrone : Rick Albano : Ryan Tatar : Serena Mitnik-Miller : Scott Massey : Scott Szegeski : Ted 'Clayfin' Gallup : Theo Hetherington : Thomas Campbell : Tiffany Campbell : Todd Stewart : Troy Dockins : Ty Williams : Yusuke Hanai. Special thanks to Kjell van Zoen and Kim Nygen from Plywerk for helping out so many of the artists in the show.
Friday, June 26 – one night only!
Surfindian
4658 Mission Blvd., Pacific Beach, California
858.412.5334
Music by the Mattson 2 with special guest Ray Barbee!
Silent Auction: 7pm – 9pm
Art to be "in hand" to winning bidder by 9:30pm
100% of the proceeds will go to the Mattson family.
$5 suggested donation at the door
Surfindian is a constantly evolving art project and retail store focused on the art of surfing. Surfindian features surf-themed art, apparel, film, books, and jewelry, as well as fine hand-shaped surfboards, fins and other surfing accessories. Surfindian is located at 4658 Mission Boulevard, in the heart of Pacific Beach, California. The store phone number is 858.412.5334. For directions and other information, please visit www.surfindian.com.
---