Custom Car Builder Steve Sellers. San Jose | Garage Magazine
A series of portraits of custom car builder Steve Sellers photographed for Garage Magazine issue 14. Location at Sellers Equipped in San Jose, CA.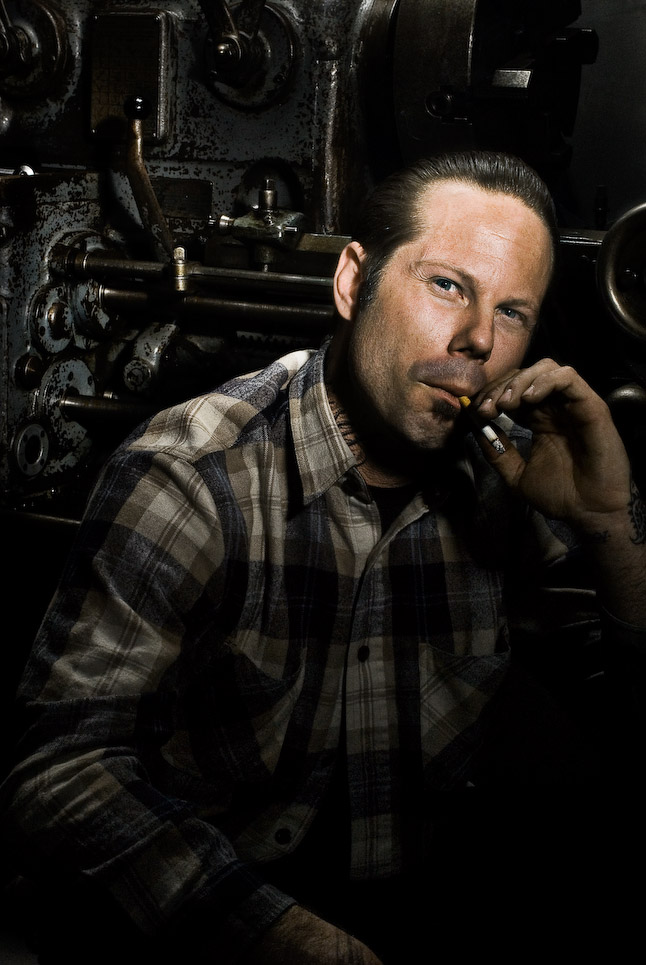 Shooting Steve Sellers for Garage Magazine
Brian Bounds, the art director for Garage Magazine, wanted something unique for this portrait. He talked about allowing the background to fall into darkness so he could use black pages for the layout. He also wanted the color to be saturated yet neutral. We did some research which got me thinking about giving contrast and enhancing the detail to just the face. Direct strobes (not diffused) on location merged with a treatment in PhotoShop proved to be the answer. The raw light source put me half way there, and the rest was to be figured out in PhotoShop. I wanted the details to look like a highly precise color illustration and just a little less like a photograph. It took a few hours in PhotoShop to develop the right combination of layers and adjustment settings, with a few added tweaks after the test prints. The samples here don't do the work justice. The final images reproduced very well in printed form considering the line screen for magazine presses. The detail screams on the page.
Shooting Editorial Portraits
Getting the opportunity to photograph amazing custom builders is a true honor. I consider these guys artists and I enjoy conversing with them about their thought process the same way I would a musician or a painter. They are hard workers, but in no way are they typical everyday characters. A normal magazine portrait doesn't cut it. They are not celebrities, but their work justifies their importance. So the goal with people like Sellers is to present them like an icon, and to bring merit to their work.
---