Polaroid Should Not Be Impossible
 Polaroid instant film should not be impossible and it should not need to be reinvented. Sadly this is not the case. In February 2008, Polaroid announced it is discontinuing production of its instant film and will close its factories in the US, Mexico, and the Netherlands. A group of 12 men have purchased equipment from Polaroid and signed a 10 year lease of a 7,420 sq ft building in Enschede, Netherlands. Known as The Impossible Project, the group plans according to their web site, "NOT to re-build Polaroid Integral film but to develop a new product with new characteristics, consisting of new optimized components, produced with a streamlined modern setup."
If it isn't broke, then why fix it? Pro photographers have complained for decades about the unpredictability of Polaroid film, while artists and lovers of all things photographic have grown to appreciate the aesthetic  of the shorter tonal curve, soft details, and yes the unpredictability of Polaroid film. Why change a good thing?
The answer is not as simple as I thought. PDN asked the Impossible Project 8 questions about what is and isn't possible regarding the seemingly simple task or reproducing a product that was on the shelf just one year ago.
Why isn't it possible to manufacture the film in the same way it was produced previously?
"Every Polaroid film pack consists of about 25 components and many of these components aren't available anymore. So what we have to do is basically find new suppliers for most of the materials. It's not possible to produce original Polaroid film, so we are looking for a new product. The meaning of Polaroid film and the needs of the customer is completely different now than the needs of back in the day. It's more a niche market product now and not a mass-market product."
– Dr. Florian Kaps, Executive director of marketing and business development The Impossible Project.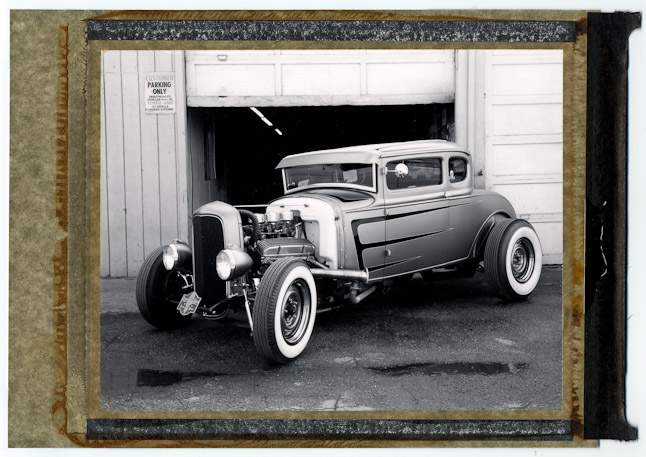 Hopefully whatever new products come from these efforts will not be a drastic change from their predecessors. Included above are a few favorite Polaroids from an editorial shoot. These were projects being worked on by custom car builder Alex Gambino at Gambino Customs in San Jose. The hot rod coupe is owned by Cab. Both were shot on 4X5 Polaroid Type 55 Instant film which is getting scarce these days. A full list of discontinued goodness can be found here: www.savepolaroid.com. I certainly hope these are not the last customs I have shot on Polaroid.
---