Art of Garage Magazine | 111 Minna Art Gallery San Francisco, CA
I will have three framed photography pieces at 111 Minna Gallery this month in San Francisco for The Art Of Garage Magazine art show. This should be a huge event filled with the work from a very eclectic group of artists. Gringo will be selling limited addition silk screened posters of the design below. Conder will have a full on dragster inside the gallery. Jason Jessee will be showing a bike plus his "Patriot Act friendly" luggage, designed exclusively for domestic travel. A must see.
Opening Reception: Thursday July 3rd. 6pm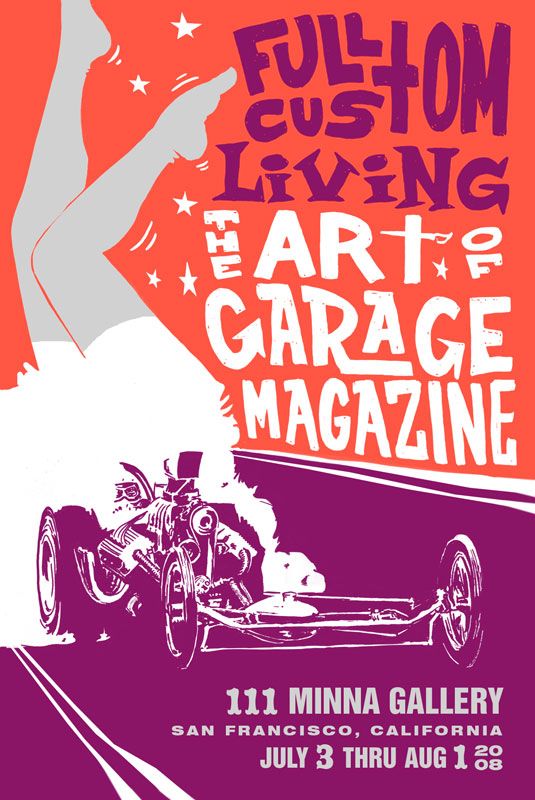 Poster design by Brian "Gringo" Bounds
111 Minna Gallery and Garage Magazine are delighted to present FULL CUSTOM LIVING: THE ART OF GARAGE MAGAZINE, a group show featuring outstanding work from some of the subculture's most visceral and definitive artists.
ARTISTS: Shawn Barber • John Bell • Boogie • Tim Conder • Daniel Martin Diaz • Ed Fox • Coby Gewertz • Dan Gilday • Bruce Gossett • Eric Haines • Jason Jessee • Chas Ray Krider • Jenny Lens • Chris Martin • Larry Mills • Estevan Oriol • Marco Patino • Jim Phillips • The Pizz • Rob Struven • Jay Watson • Keith Weesner • Drew Wiedemann • Adam Wright • Derek Yaniger
---