Group Art Show | 941 Geary San Francisco, CA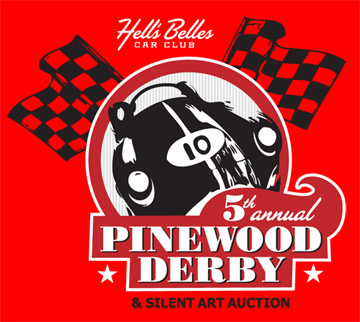 This Sat I will have a piece in a group art show at 941 Geary in San Francisco. The Hell's Belles Car Club will be hosting the 5th Annual Pinewood Derby Car Races & Art Auction Saturday, Sept 25th. Proceeds will benefit the SF Bay Area Women & Children's Center. The piece I am showing, "Sinners & Jammers" (15″ X 20″) is mounted on aluminum courtesy of BumbleJax who kindly donated their services. A full review of BumbleJax will be posted here in the near future. The short answer is they are killer! Thanks to Jamie O'Keefe for the invite, and Corey Dwinnell from BumbleJax for the hook up.
• Free admission
• Silent Art Auction
• Pinewood Derby races
• Awards for fastest car & best in show
• REFRESHMENTS : Bring your own!
Saturday, September 25th: doors at 6 p.m, races at 8 pm
941 Geary
San Francisco, CA 94103
(415) 931-2500
Other artists include: Amandalynn, Ben Collison, Talbot DeVil, Josh Ellingson, Jeremy Fish, Frank Kozik, Michael Murphy, Jeremy Natividad, Jamie O'Keefe, TJ Rappel, Nicole Steen, Jeff Stevens, Sherwin Viray, and others. The auction artwork will be up during the entire event so come and check it out. You might be going home with something cool.
---