A Few Ways To Learn PhotoShop
PhotoShop can be learned in several ways. Some options include:
1) Experiment and learn through trial and error.
This works at first, but you are probably going to destroy a few images and need to redo them once you learn the correct method. If you have all the time in the world go for this option.
2) Go to a workshop.
If you learn better with a live presentation and human interaction this is for you. However, you'll be upsold on DVDs and books. Naturally you'll buy them because the workshop went by so fast.
3) Get a 400 page PhotoShop bible.
They are out there – you know the ones. These books cover everything! You can become a master BUT it requires a lot of self discipline and a year of Sundays.
4) Take a class.
A good balance between 2 and 3. Your time is well spent if you have goals and avoid option #1.

Yeah We Know This So What Are You Getting At?
I once took a class that actually taught option #1. After years of screwing everything up, I tried option #2 which convinced me that I needed several versions of option #3. Recently friend and author Dan Moughamian came up with another option in his release of: Adobe Digital Imaging How-To's: 100 Essential Techniques For PhotoShop CS5, Lightroom 3, and Camera RAW 6.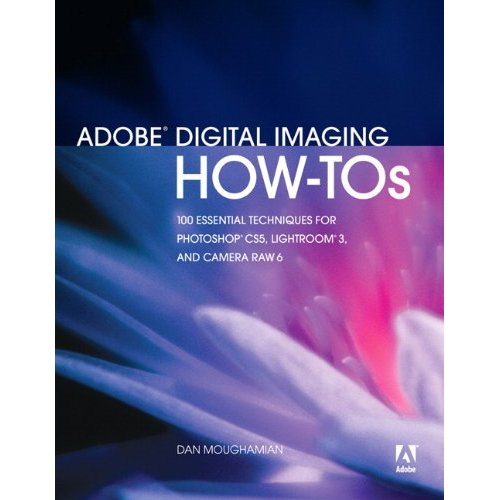 This text is geared toward beginners and intermediate users, but somehow Dan managed to include nearly something for everyone. For Lightroom, all the crucial info on importing, organizing, collections, developing, local tweaking with adjustment brushes, and exporting is covered. If you are new to LR this book will get you started! PhotoShop newbies get a run down on essentials like: preferences, Bridge (and mini Bridge), navigating inside PS, brushes, layers, and retouching techniques. They'll also be able to jump right into the nuts and bolts of masking, selecting, HDR, brush textures with bristle tips/mixture brushes, creating lens blur, and stitching panoramas. Beginners will love the easy layout. The format of tips encourages you to jump in without overloading your brain and eating away your precious weekends.
Both CS5 and LR3 have been out for a while and it is easy to forget all the new things included with their release. Dan shows you the good stuff without slowing you down with a history and background of what life was like in the Dark Ages. He cuts right to the chase. Advanced users may even enjoy looking over the book as a guide to see what they don't know or have forgotten. If you are a photographer, I'm sure you get asked all the time about what camera to buy. Do you ever get asked for help with software? If so, add some of the links below to your bookmarks.
4 Tips That May Have Slipped Past Your Radar (also in Adobe Digital Imaging How-To's)
#44 Exporting Slideshows as Video in Lightroom.
Once your slideshow is set up in the Slideshow module, go to "Export Video Button" and choose a video preset according to your needs. The Develop module is so powerful that I wonder how many people overlook the Slideshow module? LR 3 has added the ability to export a slideshow into a self contained video complete with and intro, transitions, and ending page.
#54 Mini Bridge
If you are used to Bridge, you'll have to remind yourself to try Mini Bridge. It behaves like a palette window inside PhotoShop allowing you to visually find files quickly. Click the icon panel that displays "Mb" on it to use Mini Bridge.
#80 Sharpening tool in PhotoShop CS5.
With the sharpen tool, check protect detail" in the options bar. Finally the sharpen tool becomes useful without causing the same nuclear pixel melting session that occurred in previous versions of PS.
#100 Image Processor
An oldie but goodie that is often overlooked. The Image Processor allows you to convert a group of images to JPEG, TIFF, or PSD format and/or resize them if needed. However instead of doing this through Adobe PhotoShop, I suggest selecting the images you want to address in Adobe Bridge then go to Tools–>PhotoShop–>Image Processor.
Overall: I would recommend this book to anyone getting started in Lightroom or PhotoShop and for seasoned vets who have skipped a version of LR or PS. Advanced users may thirst for more guru techniques, yet appreciate brushing up on tools that snuck past their radar. Dan is cool enough to recommend where to go next for anyone looking for more skills. For additional info about the book and author Dan Moughamian:
Adobe Digital Imaging How-To's:
http://www.amazon.com
www.colortrails.com
Check out Dan's website for more tips, tutorials, interviews, and interesting posts on "inspired art."
www.twitter.com/@Colortrails
Dan is pretty active sharing his info on Twitter, and very encouraging to the photo community.