Another Young Man In A Hurry (part II)
Another anxious young photographer is up and coming.
Keep your eye out for Justin Nambiar.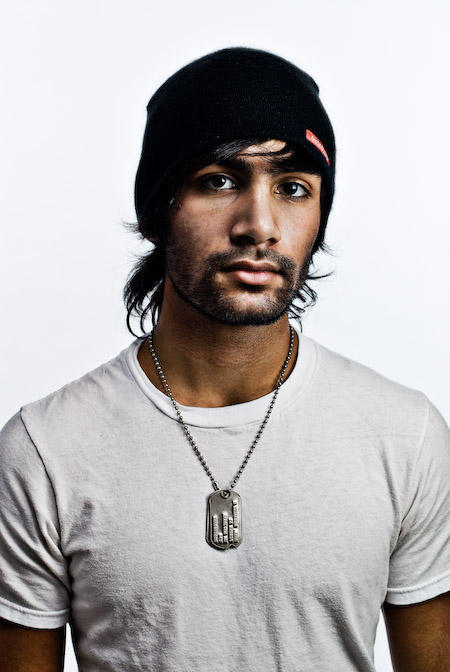 Portrait of Justin Nambiar while on a shoot in Oakland, CA. © Jay Watson Photography
The identity of AYMIAH is a former student, intern, and assistant of mine named Justin Nambiar. This week marks a pivotal moment in Justin's life. He is moving to New York to assist fashion photographers, and to start the next phase of his career. J Nam is super motivated and does not waste an opportunity (or a meal). No doubt his professionalism and dedication will take him far. When I see a kid like this go it inspires me, because everything in the photo industry is up in the air right now.
The old guard has already been weeded out. When the dot com bubble burst, some lost their big fancy studios as their clients went bankrupt. As digital capture replaced film, their lifestyle of yesteryear ended. The old ways of shooting, working, and marketing are gone like the days of pagers. J Nam is seizing the open spots and he is using his work ethic, vision, and the newer technologies to market himself and improve his work.
Experience VS AYMIAH
The experienced cats can learn a thing or two. However when the rent is due and it is time to replace a computer, will they really be able to TFP (trade for prints) with a model or a hair stylist? Maybe not, but if it will help them build their portfolio with fresh work, then maybe they should. Jimmy Yesteryear would not have done that. When business insurance is due and it is time to replace a busted piece of equipment, will the experienced shooter be able to work for a client who will only give them credit? Or for the promise of more money for the next shoot? Hell no! And J Nam knows it as well. We both know you can't work for free no matter how experienced or new you are to the game. Hard work(ethic) and strong work(images) is always good work(competent photographer), no matter how old you are. Hang in there Justin, you WILL be getting paid soon enough.
I was in a hurry to leave Baltimore for San Francisco. I knew I had to leave for the sake of a new adventure or two, and the chance to create my own voice. In doing so I left many great friends and family behind. Good people. For that sacrifice, I cannot work for free. The price is too high and I owe it to them to always creatively do my best. This comes from the gut.
Everyone please wish Justin good luck in old New York. If you have ever been in a hurry, or ever made a sacrifice in order to chase a dream, then give it up here. From one young-man-in-a-hurry to another, good luck J Nam. The best is yet to come.
• • • • •
Part 1:
What is was like being a photographer's assistant in Baltimore.
Tags: Photo Industry, photographer, photography, portrait