Photography: A punch in the face or a drop-kick to the chin?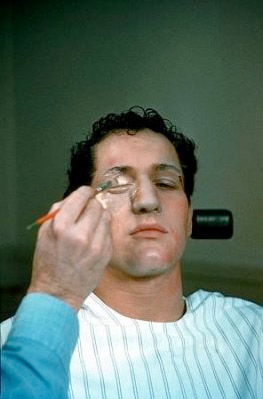 Paul Newman on the set of the 1956 boxing film Somebody Up There Likes Me. Photo by Sanford Roth / AMPAS – © 1978 Sanford Roth
Joe Reifer just punched me in the face here! Gee thanks. I think. Was this our (all photographers) wake up call, or is it just me who feels personally challenged to be a super duper witch doctor with good photographic intentions?
Don't bother boxing with JR when it comes to names. Dude is a file cabinet of info and has more retentive value than Wikipedia. He has more lives than Felix the Cat and is more productive than Martha Stewart on speed while listening to The Exploited. He already forced me into doing 3 searches from his post.
Since I feel completely steamrolled after reading this post, I need time to respond properly and I also need to find the right medium, forum, words, content, and imagery to do so. However, the reaction I will give first is this…..
1) Blogs. Nothing wrong with a blog about photography. It is like having another website and you can't beat the ability of search engines to find the details inside your posts. The more you blog, the more you'll be found. Why is this important to a photographer? If no one ever saw your work, EVER… would you still be a photographer? If so, I dare you to prove it. Not many could answer yes, and throughout history only a handful did. Therefore much blogging is about marketing.
2) The last time I checked, photography has always been over indulgent in writing on it's technical, theoretical, and artistic positions. It has always had to defend itself as an art form. Even after being accepted as art, it is still punching with the same ineffective jab. When will the medium learn to shut up? Is there as much discussion about this from painters? Or is that instead referred to as discussions about art? Are painters writing DIYs and HOW TOs on brush stroke techniques or marketing? I doubt it.
I feel as thin as a pan cake, and now have to try to rise to the occasion and the challenge that JR has just thrown out there. Hopefully after reading his post others will take off their gloves as well (2:40).