Visit To Brooks In Santa Barbara • Tip For New Artists
Last week I was a guest speaker at Brooks Institute of Photography in Santa Barbara. A few former Brooks students have contacted me about assisting, and after speaking with Eli Davis at Career Services, I was invited to present some of my work to students and talk about my experiences in the photo industry. Not only did I speak about the photo business, but I was also able to get some information from them. Here is some of the info we talked about.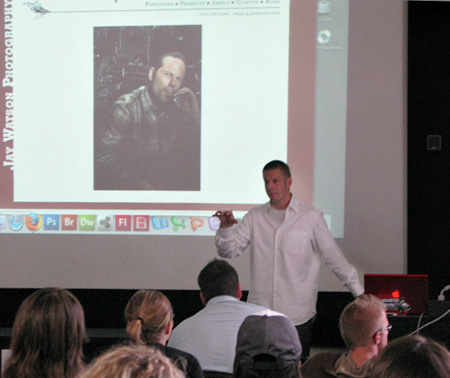 I learned (3) things from Brooks and AAU students (classes started two weeks ago)
1) Roughly 80% are on FaceBook and/or other social networking sites. No surprise there.
2) Less than 5% of them follow any blog. Many students do not know what is a blog, or assumed a blog they visited was in fact just a website. They are not reliant upon industry related blogs for news or info.
3) Less than 2% know what is a an RSS feed.
Why do I find this important?
The industry has changed greatly over the last 5 years. By the time you read news in a monthly magazine, it is already well over 30 days old. Information in the photo business is now moving at a weekly and daily pace. Much of this regards new software and camera gear, but important topics such as when not to submit stock to an archive agency, or when to contact your local congressman about copyright issues (long post but you get the point) have all been covered better through electronic feeds than in printed media. Daily events are shaping the industry. New photographers have no ties to previous business models, therefore it is just as important for students to look forward as it is for seasoned pros. Unanswered questions can benefit from out of the box thinking. We need to hear ideas from new artists just as they may need the guidance from others. This helps to empower the industry and educates both image makers and image users.
Students are active online socially but are not hip to RSS. So what gives? Well, it is just not part of their demographics. If you were in college and in your early 20′s would you rather stay at home to read industry news? Or kick back some drinks at your favorite spot with friends? Personally I'd rather be drinking with the boys and getting kicked out of Baltimore's finest establishments. However, if an instructor was in my face saying…"the world is changing right now! Try to learn what is going on so you'll be ready!" Then I'd take this as a major sign that I need to get active. NOW!
Recently I read a comment online that said what is currently taught in art school is prehistoric. Bullshit! That is a lame argument from a viewpoint of panic. Any decent instructor should be in the know of what is going on in their field and sharing that with their students. Part of education is also figuring out the answers for yourself. Being proactive. Any decent student should be willing to take the risk. But wait they already did. They decided to be an artist.
In the meantime here is some info on how to stay on top of things. I want to thank the students at Brooks for coming to the lecture and for asking questions. I will try to follow up with some info that we didn't cover. "Things Your Momma Should've Taught You About Art School" will be posted another day. For now get synced up with the news and events in your industry. Get involved today! See below on how to get started.
Learn what is an RSS feed.

Find RSS feeds from sites with important info.
Ironically, today Joe Reifer listed a few feeds from his photo blogroll here. For fine art and commercial photographers this list is enough to get you started by also checking the blogrolls of each person on JR's list.
Now add those RSS feeds to your personal feeder.
Sign up for a free account with Netvibes, and make this your home page.
What is in my blogroll?
I might add a blogroll to this blog so stay tuned. For me it is just as important to stay informed by the industry news, as it is to stay inspired by the non-industry blogs such as: 4Q, SurfySurfy, Shakas and Singlefins, Have You Seen Him, and of course Pineapple Luv.
Where to go for more?
I do not want to post tech related news on my blog. Others are doing that much better than I ever could. In the meantime I started a "Jay Watson Photography" group on Facebook where I will be glad to share more resources with other artists, photographers, and students. Feel free to join.
All comments welcome.
Tags: Blogroll, Brooks Institute, Facebook, photography, RSS