Last Christmas, photographer friend Joe Reifer created a great list of holiday gift ideas for photographers. He followed up again this year with a list of recommended books. This got me thinking about some cool cheap stuff that is photo related. Photography can be so expensive that it can put a beat down on your wallet, yet it is the little things that can make it fun, creative, or in some cases more comfortable. Any of these items below would be a nice gift for any photographer in your crew, but you may want to add some of these items to your own bag of gear. If you have anything to add to the list I would love to hear your suggestions. Here are just a few.
Nikon 35mm 1.8G AF-S DX lens $199
This is an incredibly super deal for a quality piece of glass. Even though it has received terrific reviews, I would still say this is an underrated lens. It is lighter than your cell phone, and has better manual focus than your Pentax K-1000 from high school. In fact, it is the best Nikon lens I have used for manual focus on a DSLR.
Nikon 50mm 1.8D AF lens $125
Okay so you hate DX lenses and prefer FX. Then go with the 50mm f1.8D for only $125. If you still use the 18-55mm plastic kit lens that came with your Nikon, either of these lenses will smoke that kit lens in terms of image quality.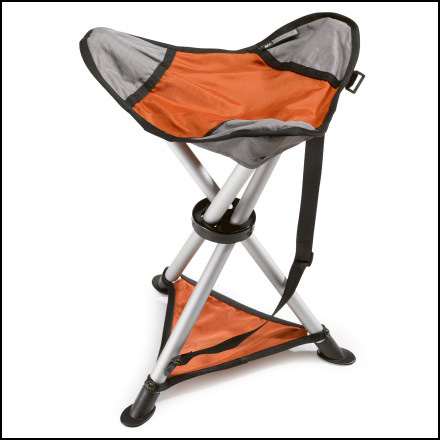 REI Trail Stool $19.50
I can go all day on the adrenaline from photography, but it is nice to grab a seat when shooting from bucket height when there is no bucket. The REI Trail Stool fits in your tripod bag, and clips to your belt when shooting rodeos.
Diana F lens adapter for Nikon or Canon $12.00 + 38mm lens $40.00
This is kind of Lomo, but toys are not just for kids. If you enjoy playing with iPhone camera apps, but would rather use a real camera (I know, so elitist) then try putting a toy lens on your workhorse. Save your phone for uhhh…making calls (I know, so pedestrian).
BENRO TRA169 Travel Angel Tripod $170
This is hard to resist for a travel size tripod. If you have another budget suggestion please let me know. Benro is a Chinese company that makes knock offs from the well respected Gitzo tripod product line. They even jacked Gitzo's logo! The price is right and surprisingly Benros have received decent reviews. The 169 is only 15″ when folded, weights 3.3 lbs, supports 8.8 lbs, and comes with an Arca swiss compatible ball head. Everyone feels guilty about this except the budget consumer.
Cuisinart 4-Cup Coffeemaker w/ Stainless-Steel Carafe $24.00
Black & Decker Brew 'n Go $29.99
What does this have to do with photography? Recently I was traveling on a shoot and stayed at a very nice hotel that did not have a coffee maker inside my room! Morning coffee in the lobby was gas station quality. The place should have been roped off as a crime scene! When I traveled as an assistant with photographer Burgess Blevins, I would bubble wrap a full size coffee maker and put it in the stand bags. We always had hot fresh coffee that was dark enough to not see the sides of the cup. Treat yourself right while on the road. The Cuisinart has a mini stainless steel carafe, make 4 cups, and will easily fit in your stand bag. The Brew n' Go only makes 15 oz so it is great for a one man army with an early call time. Call me a kook. I don't care.
Manfrotto 337 Hot Shoe Bubble Level $33.50
Some bubble levels are only single axis, but the Manfrotto is a double level with twice the versatility. Why do you need this? If your horizons are at an angle, you have to fix this by cropping in post production which tosses those precious pixels. We have enough pixels already, but sometimes those minor crops will eliminate an interesting detail in the corners.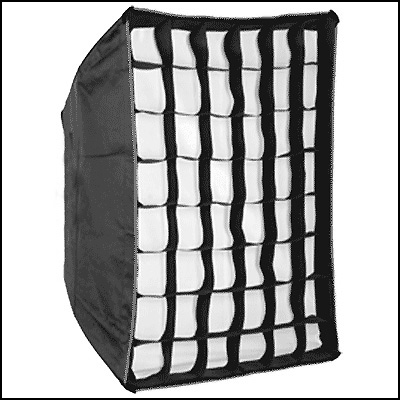 Soft Box with grid $30-$100
Go to Ebay and do a search for "soft box grid." You'll find hundreds of results for soft boxes that are less than $100. They will not last a lifetime, but they could provide a unique look to your lighting until this thing falls apart.
Mic for iphone $3.08
Yes that is the correct price! Ever use the Voice Memo app on your iphone? It doesn't work so well due to the iphone's poor microphone. On a recent shoot I was using the iPhone's Notepad to take notes on the people I had just photographed. Then it hit me. A mini mic for the iPhone would allow me to record the interviews right into my phone. If you only need info and not Dolby sound quality this would be a nice solution. I know what you are thinking, it's too expensive.
20×200 $20 –>
Start collecting original art or start giving original art. Jen Beckman has put together a fine group of images together from her list of artists here and also offers gift certificates. Prices start at only $20 for prints by established and emerging artists.
Borrowlenses.com Gift Certificate $10 –>
This is an online camera rental company that ships anywhere in the US and has a few drop off/pick up locations in the San Francisco Bay area. They rent everything! Lenses, lighting equipment, tripods, camera bodies, bags, and even filters. If you have been shooting with the same 2 or 3 lenses all year, it is time to mix it up on your next shoot.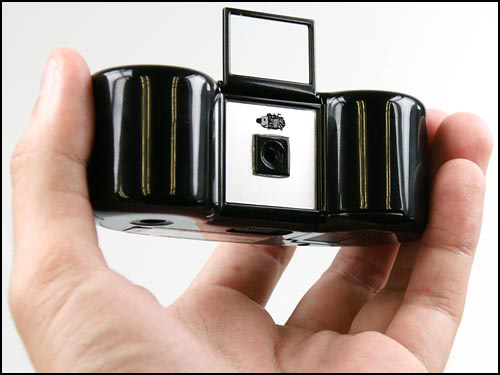 Harinezumi $170
The Harinezumi strives to imitate the super 8mm home movie look, yet it records digitally to SD cards. Philip Bloom wrote a nice review of the Harinezumi and posted an edited video here. It looks like a refreshing way to build some supplemental video content, but I wonder if its charm will wear off after one project. It's the video cam equivalent to gadgets on Lomo & JoJo. Oh the internet!
GoPro HD HERO Camera: Slow Motion Clip from GoPro on Vimeo.
Go Pro HD cameras start at $129
If you want to expand your vision why not change your point of view as well? A GoPro can be mounted to anything. Surfboards, helmets, bikes, skateboards, or dogs. It even shoots stills and allows interval shooting for time lapse photography. The best part is video footage is fairly clean and editing software by GoPro is available for free. Philip Bloom posted his review of the GoPro Hero4 here.