Duane Peters Is More Hardcore Than You
click to enlarge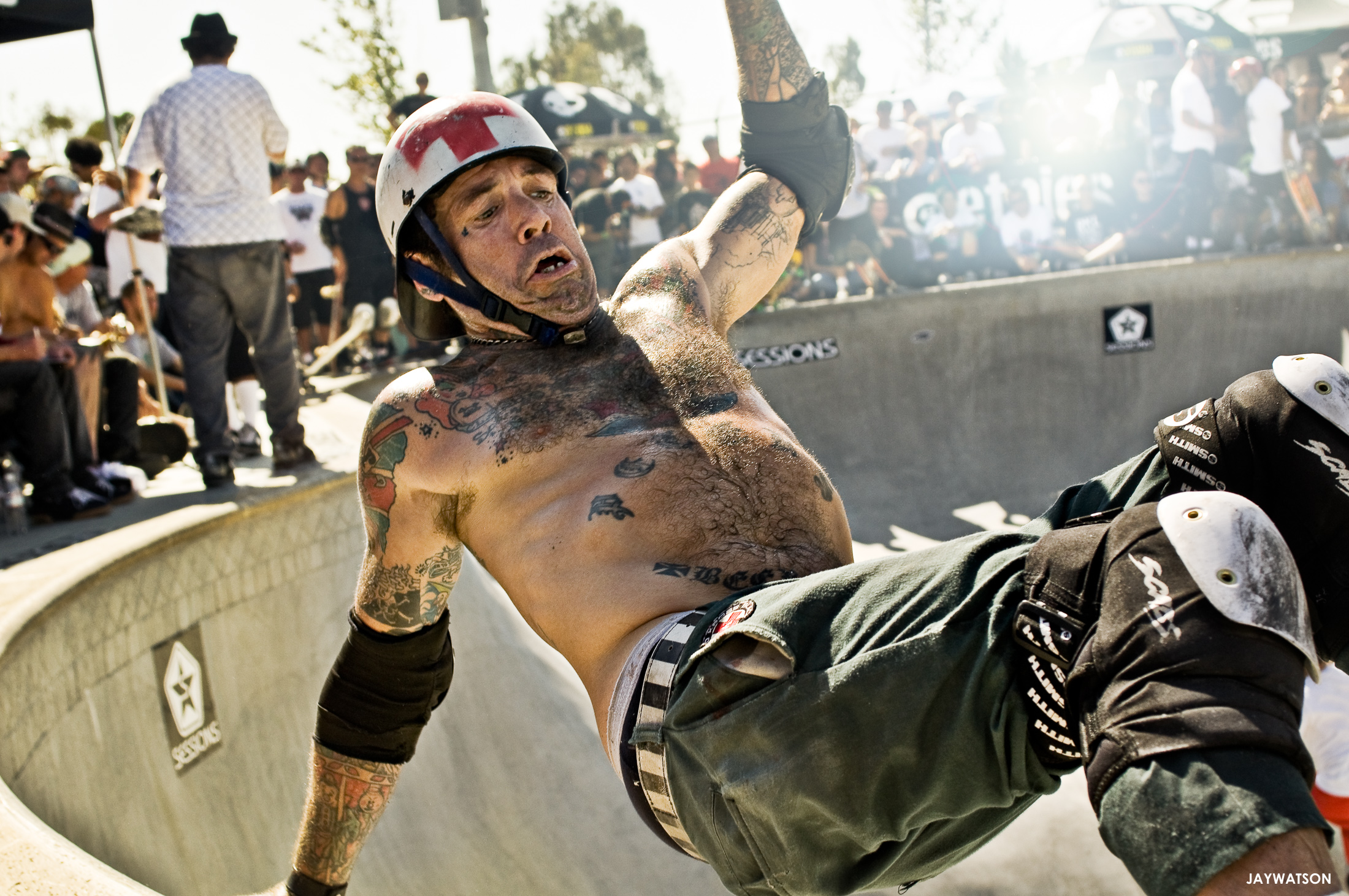 Laidback grind by DP at Lake Cunningham in San Jose, CA © Jay Watson Photography
Where does your inspiration come from? I would like to ask Duane Peters. He placed 3rd at the 10th Annual Tim Brauch Memorial Contest this past weekend. The man is 47! Not only did he lose a wheel on his first run, but he kept riding and grabbed "trick of the day" and a couple of tacos for the effort. The "Master Of Disaster" rode against legends of skateboarding such as Steve Alba, Steve Caballero, and Christian Hosoi. It was obvious Christian or Caballero would win after the first round so Peters was left to ride for himself and for the crowd during the finals. A position in which he thrives.
DP was one of skateboarding's first to come out of the 70s era and embrace punk rock. Anyone in the 80s could dress punk, but Peters transcended the outward appearance and pushed it into his riding style. He skated punk! He founded bands The Huns, the U.S. Bombs and invented my favorite trick, the "disaster." The Master has also battled with addiction, but he keeps on playing music and still consistently rides well in contents. There are only a few original seeds in skateboarding. Which makes me wonder when there is no one else who came before you, then how does the seed begin? Where does the creativity and inspiration come from? What is telling you when you lose a wheel to keep riding?
I see inspiration everywhere. From the riding style of pro skaters to the little grom who is starting out. Skateboarding is about progression and pushing yourself a little farther each time you ride. Or to just push yourself to have fun. This has been inspiring me lately. If I can remember these lessons from a skateboard then surely they will translate into photography. Inspiration also comes from not knowing. If you knew what would happen then why bother doing anything at all?
Inspiration from a song.
We need DP to stick around. After I shot this image above I was reminded of a song by by 7 Seconds where they lyrics scream out "I'm Gonna Stay Young Until I Die." That song has given me a little extra motivation. Now that I am older it makes much more sense.
• • •
More on Duane Peters

U.S. Bombs (acoustic)

• • •
Final Results 10th Annual Tim Brauch Memorial Bowl Contest. September 28, 2008
Lake Cunningham Skatepark. San Jose, CA
Masters
1. Christian Hosoi
2. Steve Caballero
3. Duane Peters
4. Jason Parkes
5. Greg Aguilar
6. Steve Alba
7. Josh Nelson
8. Mitchell Mendez
Pro
1. Benji Galloway
2. Tim Johnson
3. Josh Sandoval
4. Sergie Ventura
5. Josh Balogh
Women
1. Julie Kindstrand
2. Megan Brown
3. Annie Sullivan
4. Amiee Jay Papelera
5. Lexi Barclay